Grant Anschuetz
Slump Sports Blogger/Detroit Lions Fan
October 10, 2011. The crowd inside of Ford Field – the Detroit Lions home stadium – is anxiously waiting for something to happen. The Lions are playing their NFC North rival Chicago Bears on Monday Night Football. A 5-0 record is on the line for the Lions. The magnitude of this night in the Motor City is hard to put into words. A team – historically known for not being a legitimate contender in the NFL – is battling to stay undefeated on prime time national television. The game was knotted at 0-0 early in the second quarter when Matthew Stafford decided to take a shot down the field. Stafford took a five-step drop out of the shotgun snap and launched the ball down field to his favorite target: Calvin Johnson. After burning the Bears deep safety on a post route, Johnson caught Stafford's pass in stride. He then stiff-armed another defender yards before he reached the end zone. Johnson – commonly referred to as Megatron – celebrated this score by jumping into the stands filled with embracing Lions fans. This is my favorite highlight of Calvin Johnson's historic NFL career.
*Click "Watch on YouTube" to see video*
Sadly, that career comes to an end today. Johnson, age 30, announced his retirement today (March 8, 2016).
Johnson had a great career as a Georgia Tech Yellow Jacket, and he had a Hall of Fame worthy NFL career.
His nickname of "Megatron" was rightfully earned given his remarkable size and speed.
In 2012, Johnson broke the NFL record for most receiving yards in a season by hauling in 1,964 yards worth of completions.
*Click "Watch on YouTube" to see video*
He also had an unthinkable game against the Dallas Cowboys in 2013. In that game, he caught 14 passes that totaled up to be 329 yards… Megatron may have been an understatement actually.
http://www.nfl.com/videos/nfl-game-highlights/0ap2000000270514/Week-8-Calvin-Johnson-highlights
It's a shame that he wasn't on a national stage more often because of the lack of playoff success by the Detroit Lions, but when he did have the spotlight (on the Lions annual Thanksgiving Day game), he tended to make his mark on the holiday. In the nine games on Thanksgiving that he's played in, he has 11 touchdowns catches – the most in NFL history.
Johnson also had the Play of the Year in 2013 when he rose to the summit to grab a jump ball over three Cincinnati Bengals defenders.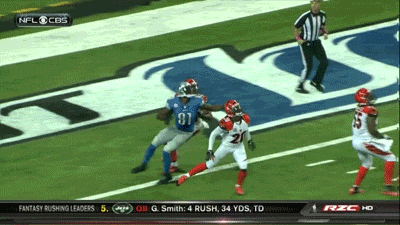 He also has a rule named after him – okay sort of. Most people refer to the rule about completing the process of the catch as the "Calvin Johnson Rule" because he was the one to put that rule on the map against the Chicago Bears in 2011.
By the way, that was still a catch to this day and nobody could convince me otherwise.
Johnson has left Lions fans in awe throughout his career and his early retirement has left some in awe as well. But I believe that you can't fault him for leaving the game when he did. I will simply be grateful for all of the highlights he has left us with throughout his time in the NFL.
Thank you Megatron.